IBBC & AMAR International Charitable Foundation host reception at the Conservative Party Conference, 30 September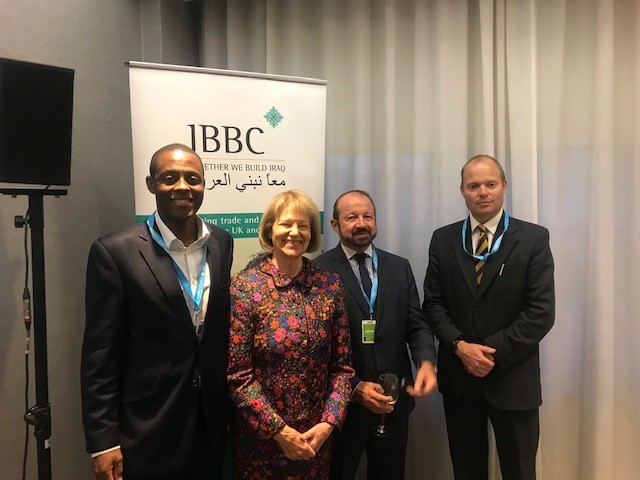 The Iraq Britain Business Council and the AMAR Foundation hosted a reception at the Conservative Party Conference this weekend on 30 September. The event, entitled 'Aid for Trade', featured several high-profile guest speakers and was attended by numerous IBBC members and guests.
Baroness Nicholson Winterbourne, President of IBBC and Executive Chairman of AMAR, and the Prime Minister's Trade Envoy to Iraq, Azerbaijan, Kazakhstan and Turkmenistan first welcomed guests. The Baroness spoke about corporate social responsibility and specifically about how UK businesses can contribute to sustainable development by delivering economic, social and environmental benefits for all stakeholders.
Guests heard from Bim Afolami, MP for Hitchin and Harpenden, Private Secretary to the Department for Transport and Member of the Foreign Affairs select committee, who talked about the importance of governance to encourage investment and efficiency.
Also speaking were IBBC Member representatives Carl Powell, Director of Public Sector Consulting at Pell Frishmann and Charlie Burbridge, Managing Director for Risk Management at G4S. Carl gave a detailed overview of the situation in Iraq, negative and positive, as well as a summary of the work of the IBBC. Charlie explained the importance of the private sector to the development of Iraq and spoke of the critical work of G4S, who are heavily involved in operations to clear Mosul in northern Iraq and surrounding areas of unexploded ordnance, territories devastated by the recent occupation and fight against ISIS.
IBBC would like to thank member company Serco for providing generous sponsorship for the event, as well as those in attendance, including Nick Petford VC of Northampton University and Andrew Mennear Head of UK Government Affairs at BP.