IBBC hold annual Cumberland Lodge Conference with Political, Academic, Education and Business Experts, 6-8 July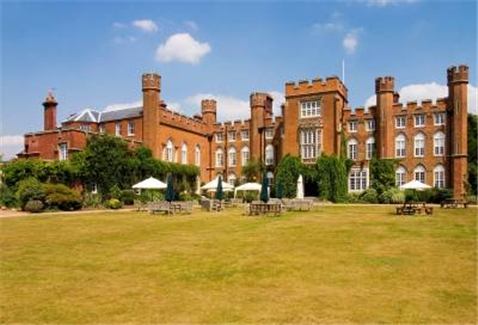 The Iraq Britain Business Council hosted its annual Cumberland Lodge Retreat on 6-8 July, inviting a host of political, business, academic and education experts to discuss the most pertinent issues relating to Iraq and its future. The title of the conference was 'Iraq: Domestic Expectations & Geopolitical Aspirations' and addressed a variety of issues on regional politics, election diagnosis and the future of higher education in Iraq.
IBBC was pleased to have hosted Ambassador John Wilks CMG, Her Majesty's Ambassador to Iraq and Dr Barham Salih, Founder of the American University of Sulaimani, Leader of the Coalition for Democracy Party and Former Prime Minister of the KRG and Deputy Prime Minister of the Government of Iraq. IBBC is thankful for their immense support and contribution towards the work of the Council in Iraq and the UK.
On Friday, IBBC first held its Oil & Gas Sector Table meeting with representatives from Shell, BP, Al Nukhba OFS, Eversheds, OiLSERVE, Penspen and more. Members and guests later heard speeches from Baroness Nicholson of Winterbourne, President of IBBC and the Prime Minister's Trade Envoy to Iraq, Dr Edmund Canon Newell, Principal of Cumberland Lodge, Mr Nazar Mirajan Mohammed, Minister Plenipotentiary Iraq Embassy and Sara Akbar, Founder Member of IBBC, Kuwait Government Adviser and CEO of new IBBC member OiLSERVE.
The conference also featured in-depth discussions with high level representatives from the Government of Iraq, including Dr Abdul Razzaq Al-Issa, Minister of Higher Education and Scientific Research, Dr Adbul Kariem Al Faisal, Chairman of the PM's Advisory, Dr Dara Rasheed, Deputy Minister for Construction, Housing and Municipalities and Deputy Head of Refaato and Dr Salah Hadi Saleh Alhashim, DG for Scholarships at he Ministry of Higher Education and Scientific Research.
Agenda & Speakers
Session 1: Present Situation in Iraq
Chair: Baroness Nicholson of Winterbourne, The Prime Minister's Trade Envoy to Iraq and President of IBBC
Dr Barham Salih MP, Coalition for Democracy, Jon Wilks CMG, HM Ambassador to Iraq, Dr Renad Mansour, Research Fellow, Chatham House, Professor Toby Dodge, Director Middle East Centre, LSE
Session 2: Iraq in a Regional Perspective
Chair: Dr Renad Mansour, Research Fellow, Chatham House
Sara Akbar, CEO Oil Serve Kuwait
Session 3: China and Iraq
Chair: Botan Osman, Managing Director, Restrata
Raffaello Pantucci, Director of International Security Studies, RUSI
Session 4: IMF view on Iraq
Chair: Gavin Wishart, Board Member, IBBC
Gavin Gray, Mission Chief for Iraq, IMF
Session 5: Partnerships between British and Iraqi Universities
Chair: Dr Victoria Lindsay, Director British Council Iraq
Professor Obay Al Dewachi, President of Mosul University, Professor Nick Petford, Vice Chancellor of the University of Northampton, Professor Mohammed Al Uzri, Honorary Professor with Social and Epidemiological Psychiatry Group at Leicester University, Professor John Strachan, Pro-Vice Chancellor at Bath Spa University
On Saturday 7, an after dinner speech was given by Dr Mohammed Jasim, Library Director of Mosul University, who gave an impassioned presentation on the progress made in rebuilding the university's dilapidated library.
The event was greatly supported by numerous international institutions contributing to the reconstruction and development of Iraq, including the IMF, World Bank, International Energy Agency, Royal United Services Institute (RUSI), Chatham House, the Foreign & Commonwealth Office, the British Council in Iraq and the American University of Iraq Sulaimani.
IBBC would like thank the staff at Cumberland Lodge, all speakers and delegates who contributed to the extremely fruitful discussions, and to its members, with representatives attending from Al Burhan Group, Al Nukbha OFS, Bath Spa University, BP, Olive Group, Eversheds Sutherland, G4S, KBR, Menzies Aviation, Mosul University, Najaf Chamber of Commerce, OiLSERV, Penspen, Perkins+Will, Petrofac, Restrata, Serco, Shell, TurnKey LLC, University of Leicester, University of Northampton and Wood.